Backpack Giveaway at JJK Center
The following photos from our backpack giveaway on August 14th at the JJK Center in East St. Louis, focuses on our children. This is the main reason we are here. We are to equip our kids for their next levels in life. By the Grace of God, this was the biggest turnout of people we have ever experienced at this event. We estimated close to 450 people including parents and children attended this event. We ran out of everything! We gave 300 backpacks, 250 books and 75 items of Sporting Goods, 150 items of clothing. We also gave away 2 Samsung Chromebook laptops, a drone and a globe as door prizes. Thanks to the many people who gave their time, resources, donations and prayers for this event
Toni and Alonzo Perrin
Scholarship Award
During our 4th annual Backpack Giveaway at the JJK Center in East St Louis Illinois, Focus on the City gave the first Toni and Alonzo Perrin Scholarship Award (TAP) to Kelbi Cox. Kelbi graduated from East St Louis Senior High School this past spring. She will be attending the University of Illinois this fall. She has already attained her Associates Degree. This award totaled $1000 in Funds and Resouces. The resources included, $500, A Chromebook laptop, Tennessee State University backpack, a starter library pack of books and other gifts. We would like to thank Kenya Frye from the staff of East St. Louis Sr. High school for assisting in this process. We pray blessings and God's covering over Kelbi as she shifts into a new season of her life. Go be great and significant! Lets give a Congratulations to Kelbi Cox.
Watch the video on instagram: https://www.instagram.com/tv/CSo0re2nWM9/?utm_medium=copy_link
East St. Louis Annual
Back to School Event
August 14, 2021
View this post on Instagram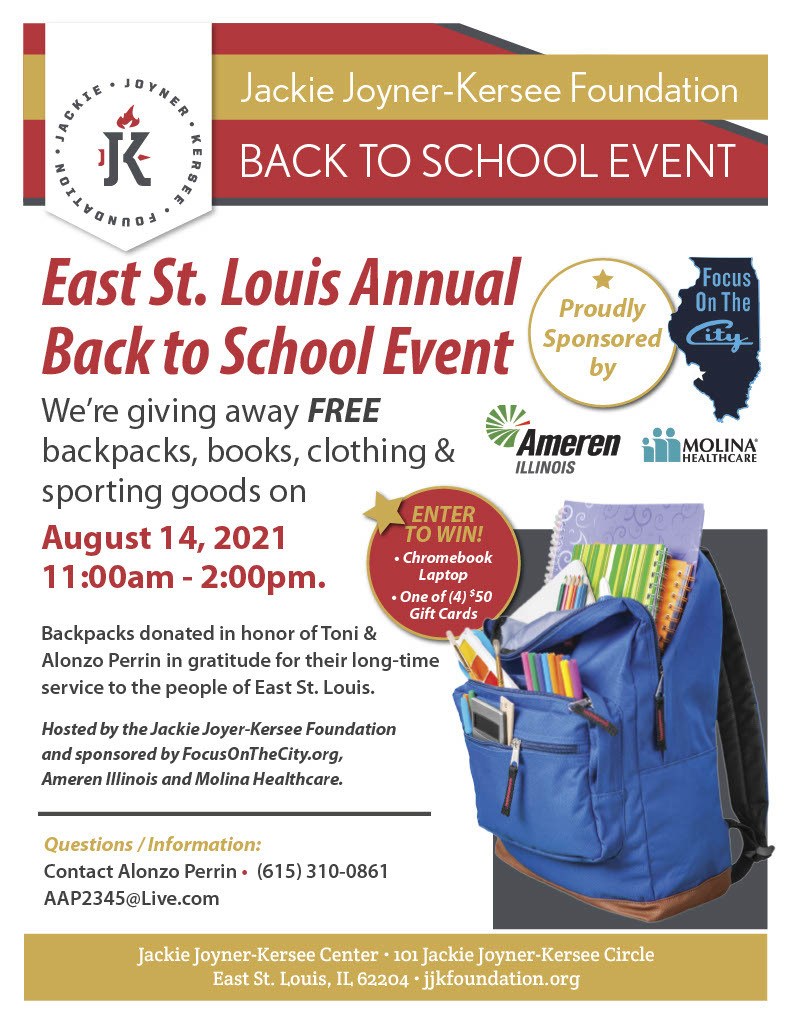 Basic School Supplies List
August 14, 2021 Event
Backpacks
#2 Pencils
Notebooks
Crayons
Erasers
Sharpeners
Highlighters
Rulers
Pocket Folders
Requested Books for Focus on the City
Backpack and Book Giveaway August 2021
Kingdom Quest, Taking Faith and Character to the Next Level: Tony Evans
For Girls Like You, A Devotional for Tweens: Wynter Pitts
The Undefeated: Kwame Alexander and Kadir Nelson
The Black Millionaires of Tomorrow: Dr. Boyce Watkins
Little Miss is Destined for Greatness: Amber Bogan/Native of East St. Louis
All Because You Matter: Tami Charles and Bryan Collier
I Am Every Good Thing: Derrick Barnes and Gordon C. James
The Playbook, 52 Rules to Aim, Shoot, and Score in This Game Called Life: Kwame Alexander
Austin Plays Fair: Tony and Lauren Dungy
Heart and Soul: The Story of America and African Americans: Kadir Nelson
Sulwe: Lupita Nyong'o
I Am Enough: Grace Byers
The Fierce 44: Black Americans Who Shook Up The World: ESPN's The Undefeated.com
Hair Love: Matthew Cherry
Courage to Soar: Simone Biles
Uncomfortable Conversations with a Black Boy: Emmanuel Acho
I Promise: Lebron James
Battles, Books, and Business

Greetings. I'm truly honored and blessed to have been a part of our Black Boys Empowerment series, Battles, Books, and Business on March 27th. Thanks to the Bayland Community Center for being gracious hosts for our event. We were blessed to have 10 wonderful future world changers and community leaders.  We were honored to have 3 awesome speakers,  Cayford Campbell  of East St Louis and a retiree of the United States Army,  Omari Issa of East St Louis and Ashley Jefferson White  from Houston and both are  an Alumnus  of Tennessee State University. Each kid's life was changed forever after hearing them speak. 85 percent of our kids did not own a suit prior to this event.  Each kid received a brand new suit, suit separate or slacks and a shirt and tie with brand new shoes. Each kid will also receive a digital print from the photography of Marshall Mullen Photography here in the Houston/Katy Texas area. Thank you, Mr. Mullen and Mr. Jones for the great visuals from this event.  Here are some pictures from the event.
To view a full explanation of the event, please go to this following link: https://m.facebook.com/story.php?story_fbid=3727047077392758&id=100002625085740
Thanks for the support.
FOCUS ON THE CITY
Phone: (615) 310-0861
Email: Info@focusonthecity.org
East St Louis mailing address:
7809 Lake Dr,
East St Louis, IL 62203
Donations can be received via Paypal(The Yellow Donate Tab) and CashApp($Focusonthecity).
Thank you for partnering with us. Your %100 percent taxable donation is much appreciated and your giving will continue to enhance our goals to add a focus on the families that God brings into our lives. Thank you for continued support and God Bless.
We want the families to feel loved and receive blessings from generous people.
Please see this article (click here) about the August 2019 event.
Backpacks can be ordered in bulk and individually from the following websites: www.dollardays.com, www.bagsinbulk.com and www.amazon.com. Please send all backpacks to 7809 Lake Drive, East St. Louis, Illinois 62203. Thank you for your continued support.